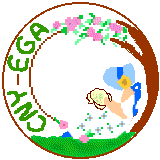 Discover A New World • Discover Embroidery • Come Learn With Us
Fall Retreat: Navigating the Waters of the Beading Master Craftsman Program
Our EGA Annual Fall Retreat will be held on Saturday, September 23rd, from 10 am until 3 pm at the Fayetteville Senior Center.
The program will be given by Sue Osterberg, an EGA member from Hendersonville, NC who has recently received her Master Craftsman Certification in Beading. Sue will have her six pieces on display, and she will present a PowerPoint program which illustrates the steps (and the obstacles!) that she went through in achieving this goal.
Following the presentation and lunch, Sue will teach a (SIMPLE! We promise!!) beaded bauble project, the kit for which is included in your Fall Retreat registration. You WILL leave with a completed beaded bauble (see picture) which may be made into a scissor fob (or do two of them and make earrings – your imagination is the only limit.) The bauble is about 3/4" in diameter; it will NOT be done in blue and orange – that's just the sample Sue worked up for us. It will be in a neutral metallic gray, with a choice of accent color, and you will be able to indicate your choice when you sign up at the July EGA meeting.
​
Color choices for the accent color are purple, lavender, matte green, sparkly green, very dark bronze, matte orange, and variegated fall colors; a picture will be in the big white sign up book. We have a limited number of each, so please indicate firstandsecondchoices.
​
Cost per person will be $30.