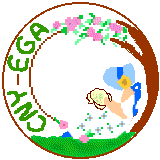 Discover A New World • Discover Embroidery • Come Learn With Us
Elegance Cubed
Two-Day Class - Saturday / Sunday
Teacher: Kurdy Biggs
Technique: Canvas
Level: Intermediate
Size: 8 1/2" x 6 1/2", finished size 2" cube
Cost: $45
Put together shimmering threads with a metallic bronze canvas and you have an elegant piece that folds up into a cube—Elegance Cubed. Combine stitches such as crescents, Jessicas, mistake, sprats heads, and plaited rays along with iridescent white and pale gold threads from Rainbow Gallery and Kreinik to create a Fabergé-inspired 3D piece. To finish we will use beads and crystals in a variety of clusters to add depth and sparkle to complete the piece.
​
Kit Includes:
18-count metallic bronze canvas

Rainbow Gallery threads (including Entice, Elegance, and Splendor)

Kreinik metallics

Beads

Crystals

Stitching and beading needles

Instructions
Click on the gemstone to learn little gems about the teacher!