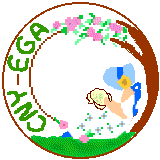 Discover A New World • Discover Embroidery • Come Learn With Us
Crescents and Crystals
One-Day Class - Friday
Teacher: Kurdy Biggs
Technique: Canvas
Level: Intermediate
Size: 3 1/2" x 3 1/2" each of 2-sided ornament
Cost: $50
The heart of Crescents and Crystals is composed of curves which originate from the numerous crescent stitches in the design. These crescent curves are woven into an intriguing pattern that also includes walneto and sheaf stitches. Stitched with silks and metallics, Crescents and Crystals is embellished with 4mm crystals and beads to add depth and sparkle. This piece is sure to shine as an ornament or framed piece. The class will discuss thread variations for stitching a second rendering of Crescents and Crystals.
​
Kit Includes:
18-count french blue canvas

Kreinik

Trebizond

Waterlillies

Beads

4mm crystals

Needles

Instructions
Click on the gemstone to learn little gems about the teacher!