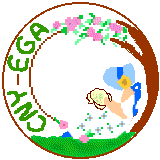 Discover A New World • Discover Embroidery • Come Learn With Us
Blanket Stitch Fantasy
One-Day Class - Saturday
Teacher: Carol Lynn Stratton
Technique: Stitch Exploration and Design
Level: All Levels
Size: 6" x 6"
Cost: $25
How well do you really know blanket stitches? Review old and try new uses of these versatile stitches, work with variations and threads that you've always wanted to try. Step a little outside your comfort zone in a safe environment. Finally, make old-fashioned buttons with newfangled threads! Consider this a cross between crazy quilting, embellishing, and just a sampler of useful stitches.

Students will have a basic color choice for the ground with several options of threads. Colors include the following colorways: green, blue, violet, pink, and yellow.
​
Kit Includes:
Ground fabric in a choice of colors

Variety of threads including

Perle cotton

Trebizond silk

Rayon

Fyre works

Floche

Neon Rays

Sparkle Rays

Satin

Razzle

Dazzle

Eleganza

Memory Thread and more

Needles

Directions
Click on the gemstone to learn little gems about the teacher!