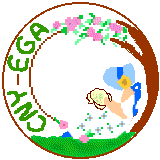 Discover A New World • Discover Embroidery • Come Learn With Us
From Region Directors
We would like to invite you to attend the Mid-Eastern Region Seminar 2018. It will be beautiful to spend some time in Syracuse, New York in the spring. What a wonderful place to have Facets in Stitches.
The seminar committee has worked hard to prepare a great experience for you. We hope that you will join us, both as a way to meet old and new friends, and to take some interesting classes from our fabulous faculty.
Terry Faber - Region Director 2015-2017
Gerry Stark - Region Director 2017-2019
From Seminar Co-Chairs
We are very excited to bring you the brochure for the MER Seminar 2018, Facets in Stitches. We are celebrating the variety of stitches, threads, fabric, and techniques that make up the many facets of our stitching world.

EGA will be celebrating its 60th anniversary in 2018 and many chapters in our region are celebrating their anniversary years. Did you know that we have chapters that are 30, 40, and 45 years old? Our newest chapter will be almost 10 years old. We invite you to come to Central New York to enjoy a wonderful event, excellent teachers, and the joy of stitching together.

Bobbi Yonai and Jill Sarkodie-Mensah,
Seminar Co-Chair